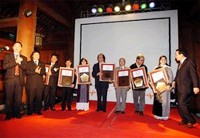 At the awarding ceremony
Mr. Mai Tran, a businessman in Fort Collins (Colorado) has just been awarded the title "2006 State Small business Person of the year" by the United States of America Small Business Association (SBA) in mid-April.
Mr. Mai Tran, President and CEO of Information Technology Experts Inc (ITX) in Fort Collins, Colorado, received the award alongside Bruce Hottman, Executive Vice President of ITX.
Mr. Mai Tran left Viet Nam when he was 16 years old.
He studied English and graduated from Fort Collin High school in 1982. He received Computer Science and Mathematic degree in 1986.
Bruce Hottman was born in Colorado and graduated from Colorado University in 1984 with Computer information systems degree.
Turnover increases 30% -50% yearly
Mr. Mai Tran and Mr. Bruce Hottman both started work together 20 years ago as contractors at Western Energy Management Office (WEMO).
They established business plans for themselves while working for WEMO. In 1996, they founded their own company Information Technology and Communications and logistic Support.
Information Technology Experts Inc of Mr. Tran is among the fastest growing private enterprises in Colorado with fewest members in the Management Board.
"Our yearly turnover was up 31%. In 2005, our turnover increased 50%, exceeding US$ 6,5million" Mr. MaiTran, said.
He takes much pride of Information Technology Experts Inc, "We always recruit the best engineers. Especially, we have professional skilled employees in Fort Collins". Mr. Tran, added
According to SBA, there are more than 25 million small businesses in the US. They contributed 57% turnover and a half of GDP in USA. In Colorado, there are about 140 thousand of small businesses which have less than 500 employees or a monthly turnover reaches under US$ 5 million.
Beside Mai Tran and Bruce Hottman, there are 5 other businessmen to be awarded prizes. They come from Greenwood Village, Denver, Aurona and Grand Juntion.
Link: http://www.itxfc.com/htm/Profiles.htm