A large number of Italian business people, scholars and economists attended a workshop on Vietnamese economy and investment climate which was held on November 7- 8 in the southern Italian city of Sorrento, as part of Sorrento Meeting 2014.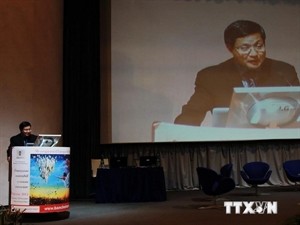 Vu Viet Ngoan addresses the Sorrento Meeting 2014 (Photo: VNA)
Addressing the function, Vu Viet Ngoan, Chairman of Vietnam's National Financial Supervisory Commission, laid emphasis on Vietnam's policies on door opening and international integration with a view to creating favourable business environment for foreign investors based on the win-win and long-term benefit principles.
Daniel Kraus, Confidustria's Deputy Director General, on his part, said Vietnam is a country of strong vitality, adding that more promotion programmes are needed to help Italian enterprises know about investment opportunities in the Southeast Asian country.
It was revealed at the workshop that approximately 200 Italian businessmen from 140 companies will visit Vietnam during November 21 – 24 to conduct market research and seek potential partners on the occasion of a meeting of the Vietnam-Italy joint committee for economic development.