Foreign Direct Investment in Vietnam in the first months of 2014 was year on year decline, however the year's total is unlikely lower than 2013 with several large projects about to be granted investment licenses.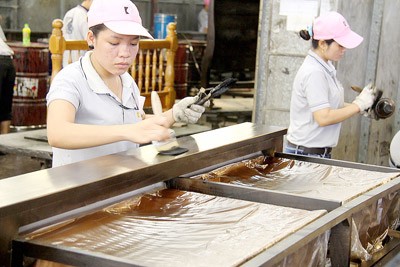 Wood production at Kaiser Wood Industry Company, My Phuoc 1 Industrial Zone, Binh Duong Province (Photo: SGGP)
Registered capital topped US$5.5 billion as of May, accounting for 66 percent of the number in the same period last year, said the Foreign Investment Agency under the Ministry of Planning and Investment.
FDI strongly increased in the southern region including Ho Chi Minh City, Binh Duong and Dong Nai Provinces.
Binh Duong attracted US$978.4 million, up 15 percent while HCMC lured US$793 million, an increase of 119 percent year on year.
HCMC has approved a US$1 billion electronic plant project of Samsung Group in the Saigon Hi-Tech Park, according to the city People's Committee.
A number of large FDI projects are under negotiation and might be licensed this year, Minister of Planning and Investment Bui Quang Vinh revealed at the weekly VTV program 'People ask, Minister answers.' Therefore, the year's total will not reduce over last year, he said.
Authorized agencies will comprehensively improve business environment for long-term and stable foreign investment in Vietnam, said Dang Xuan Quang, deputy head of the Foreign Investment Agency at a recent Vietnam Singapore Business Forum 2014.
Le Thanh Cung, chairman of Binh Duong Province People's Committee said Binh Duong has welcoming foreign investors since the beginning of the year.
The province will continue to assist damaged companies to stabilize production.
Measures to improve the investment environment will also be intensified. The provincial authorities will propose the Government to have preferential policies to attract potential investors in hi-tech field.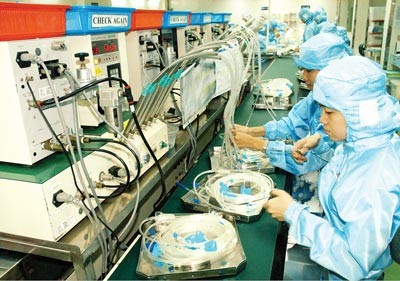 Nikkiso Vietnam Company produces medical instrument in Tan Thuan Export Processing Zone, HCMC (Photo: SGGP)
Le Manh Ha, deputy chairman of HCMC People's Committee said City will continue administrative reform to cut short FDI licensing time.
Representatives from some business associations and foreign companies have expressed their belief on Vietnam's investment environment.
Johnny Liao, director general of Daily Full International Printing Company located in Vietnam Singapore Industrial Park 1, said that Vietnam and other Southeast Asian nations are still the best choice for foreign companies to invest in.