Vietnam may have capitalized on its World Trade Organization (WTO) membership but its two years in the trade body has also exposed the shortcomings in its economic management, analysts said at a seminar in Ho Chi Minh City yesterday.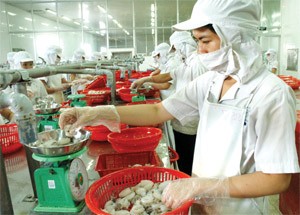 Workers process squid for export at Sai Gon Aquatic Products Trading Joint Stock Company (Photo: SGGP)
Speaking at the seminar held to review achievements and challenges since joining the WTO in January last year, Truong Dinh Tuyen, former trade minister, said the country now has more business opportunities.
 
Vietnam attracted US$56.2 billion in foreign direct investment in the first nine months, a five-fold rise over the same period of 2007.
 
Export markets have expanded to 150 nations and territories and exports in the first nine months rose 39 percent to $48.6 billion.
 
Mr. Tuyen said besides growth, WTO membership has also resulted in opening up of the market, elimination of discrimination and subsidies, and publicizing of polices, ushering in new economic management standards.
 
Challenges
 
Dr. Vo Tri Thanh, a senior economist at the Central Institute for Economic Management, said things were encouraging in the first year after WTO accession, but the economy began to face major shocks this year.
 
The oil price volatility and financial crisis have badly affected the country, causing high inflation and widening the trade deficit, he said.
 
Private investment has fallen while public funds have been misappropriated, he said.
 
Unemployment has increased this year, and the gap between rich and poor has widened, he warned.
 
Lessons
 
Antonio Berenguer, trade counselor for the European Commission in Vietnam, warned that the high inflation would drag down economic growth and prevent the benefits of WTO membership reaching the poor.
 
Mr. Tuyen said changes in the global market have had rapid and caused negative impacts on Vietnam, especially on sectors like oil and finance.
 
To cope with this, delegates said the Government needs to adopt a comprehensive system to oversee banking and insurance.
 
Technology development and export of completely-processed products, rather than that of raw materials, have to be encouraged, they said.
 
Mr. Tuyen said if the Government reforms administration and state-owned enterprises, encourages development of small- and medium-sized enterprises, and has a flexible policy rather than laying too much emphasis on economic growth, the country would be able to overcome the problems.