A seminar held in the capital yesterday by the Central Institute for Economic Management (CIEM) and Japan's Mitsubishi Research Institute (MRI) reported the findings of a study on the slow growth of the Vietnamese parts supply industry.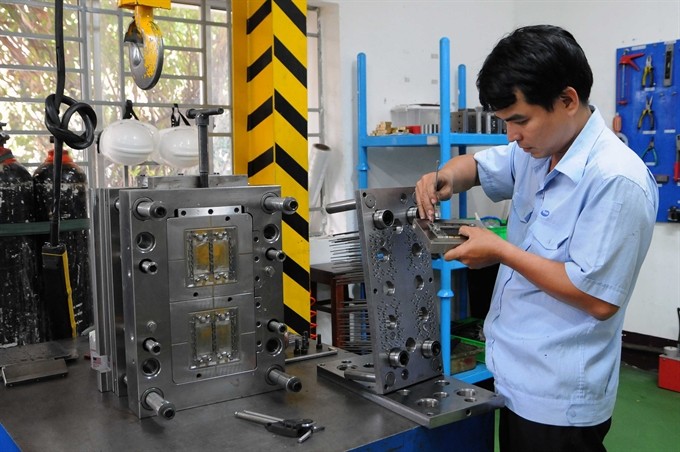 A worker completes assembling a metal product at Sài Gòn Industry Corp, one of the leading parts suppliers in HCM City. (Photo: VNA/VNS)
The report aimed to analyse challenges for Viet Nam's parts supply industry and recommend policies to boost co-operation between Viet Nam and Japan in the industry.

According to Doctor Yoichi Sakurada from the MRI, the research was not only theoretical but also practical. It checked the country's current models and policies supporting small and medium businesses and proposed policies to further develop co-operation between Viet Nam and Japan in the industry.

CIEM Vice-President Nguyen Thi Tue Anh said the country's capacity for supplying intermediate products was still uncompetitive in quality, price and efficiency. Meanwhile, the domestic businesses' capacity for participating in the global value change remains limited, even sectors with considerable advantages.

She said Viet Nam had many programmes and policies to support small and medium enterprises with institutions, credit, technology and human resources. However, the policy implementation was not effective enough.

Tue Anh took the policies to encourage parts supply industry under the Government's Decision 111/2015/ND-CP on the parts supply industry development as an example of ineffectiveness.

She said the policies had not yet created an impetus for the industry because the decree's preferences on tax, credit and human resources were not actually new, but present elsewhere in other regulations.

Viet Nam imports 80 per cent of raw materials. According to an estimate by the Japan External Trade Organisation (JETRO), the local content ratio of processing products made by Japanese manufacturers in Viet Nam last year was 32.1 per cent.

As for industrial products, only the motorbike industry received a high rate of localisation, at 95 per cent. Other sectors such as electronics, auto and high-tech products had a local part rate of below 20 per cent on average.

Sharing experiences at the seminar, MRI experts said Japan proposed that Viet Nam test its model via a State-owned technology centre. This model was set up in Japan in 1920 and has been successfully carried out in Japan since.

This model is a place for small and medium enterprises, which are unable to invest in equipment for testing, to use the centre's services and machines to study and test their products. The model is under management of local authorities and its fund comes from the local budget and partly from the enterprises.

CIEM deputy director Tue Anh said it needed to discuss in more detail which industries would need that support. There are many centres supporting businesses in localities, so many areas will only require upgrades through investment in equipment and machines.

However, she added that the most difficult thing is determining how to maintain the centres' operation effectively, including funding, machine upkeep and human resources.

Economic expert Nguyen Mai said CIEM should propose that the Ministry of Planning and Investment issue concrete policies for businesses to develop parts supply industry and then submit the policies the Government.

"In particular, we should not have different concept between Viet Nam and Japan about the parts supply industry. We should set up parts supply for every industry," said Mai.