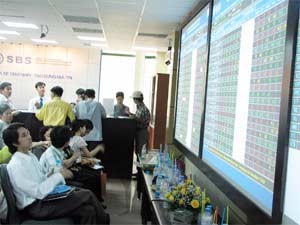 Investors watch the electronic board with uncertainty. (Photo: TC)
The Ho Chi Minh City Stock exchange continued to slide 29.21 points, pulling the VN-Index down to 968.88 points at the closing of this morning trading session.
Around 4.5 million shares were traded, with a total trade value of only VND578 billion.
BBC topped the 74 sliding shares, followed by other blue chips like TYA, SCD, HTV and HBD. The top five increasing shares were SFI, VTC, TCT, VID and SDN.
Yesterday, the market witnessed 72 stocks rising while 19 others fell. STB led the market in terms of the trading volume and value with 1.53 million shares worth VND225 billion.
Many experts said that the slight fall yesterday signaled further recession and the market tomorrow will continue plunging deeper than today.
Today's losers and winners