Vietnam is forecast to post economic growth of 6.5% in both 2008 and 2009, lower than earlier predictions, the World Bank said in its semi-annual report released Wednesday.
In April, the WB forecast 8% growth for the Southeast Asian country this year and 8.5% next year.
But the international lender's latest report is more optimistic than the International Monetary Fund's recent forecast of 5% for next year.
For this year, the WB report predicted 6.7% growth for Cambodia, 6.0% for Indonesia, 7.0% for Laos, 5.5% for Malaysia, 4.0% for the Philippines, and 4.6% for Thailand.
The document wrote that Vietnam's performance in 2008 demonstrated the resilience of its economy. "After three years of real GDP growth above 8 percent, the pace of economic expansion slowed in the first 10 months of 2008, largely reflecting the impact of the authorities' stabilization package."
The WB said inflows of foreign direct investment have remained robust so far. FDI approvals for the first 10 months of 2008 reached a record level of US$59.3 billion, equivalent to about two-thirds of GDP. Disbursements in 2008 are forecast to amount to about $11 billion, up from $8.1 billion in 2007.
The current account deficit has begun to decline after surging sharply in the first half of 2008, reflecting slowing import growth because of the authorities' austerity measures and robust export growth, the report wrote. For the year as a whole, however, the current account deficit is still likely to widen from 10 percent in 2007 to 13 percent of GDP in 2008 before declining in 2009.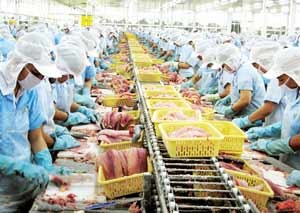 Workers prepare fish fillets at a factory in the south. Seafood is a major export earner of Vietnam (Photo: SGGP)
The report said the Vietnamese government is currently preparing a stimulus package to face the global downturn.
The package is organized around five groups of measures: promoting production and exports, supporting consumption and investment, further loosening the financial and monetary stance, reducing poverty and providing social welfare, and strengthen public sector management at all levels.
"The fiscal implications of this package are still unclear, but an increase in expenditures can be anticipated. Current discussions set the additional level of expenditures at around one billion dollars, or roughly one percent of 2008 GDP," the WB report wrote.