Currently, Imported gas currently accounts for nearly 70% of the local market as the only gas processing factory Dinh Co in Viet Nam, having been operational for six years, provides only 30% of the market's demand.
Unstable gas supplies and prices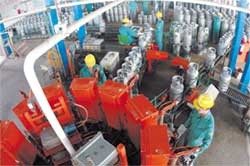 Checking the sercurity of gas cylinders before finished.
Only in the January – September period of 2006, the gas price fluctuated twelve times, reaching its peak in August (nearly VND16,000/kg), the highest over the past ten years.
Gas prices continuously increased from January to August and suddenly fell in September and October, causing losses of billions of Viet Nam dong for many gas trading companies.
Gas trading turns out to be an increasingly dangerous business when local companies can't keep up with changes in the international gas market. However, gas users suffer the highest losses.
Early 2006, Vietnamese gas traders faced a new worry: having long been the main source of gas supply to Viet Nam, as of early 2006, the Thai government kicked off a national energy security program and restricted gas exports.
As a result, Vietnamese gas traders had to seek other sources from Singapore, China and Malaysia. This difficulty, adding to unhealthy business practices among the community of Vietnamese gas traders, makes the situation worse. Sometimes the gas market sees oversupply and all gas providers have to cut down prices and incur losses together.
After ten years of development, Viet Nam has up to 60 gas trading companies, but less than 10% of them have gas warehouses. While other countries are creating national gas plans, Viet Nam still lets gas traders organize things themselves.
Still dependence on imported gas
In the early 1990s, gas was still a luxury fuel in Viet Nam, which was only used by well-off families. At that time, gas cylinders illegally imported across the border ruled the market and controlled the gas prices in big cities.
After 1994-1995, the gas market in Viet Nam really developed with the appearance of many gas companies, namely Elf gas, Saigon Petro, VT gas, Petrolimex, Shell, Thang Long, Dai Hai, and Total. Along with this, gas prices declined, from VND15,000 to VND12,000, VND10,000 and VND8,000 per kg by 2002.
As a result, the number of households using gas has rapidly grown by 15-20% per year. The need for gas rose from 300,000 tons in 1999 to 900,000 tons in 2005.
Meanwhile, the only gas processing factory in Viet Nam, Dinh Co, has run at its full capacity, but it can provide only 320,000 tons of gas a year. Viet Nam has to import the remaining 600,000 tons.
Once the Dung Quat oil refinery is brought into operation in 2009, the country will have an additional 250,000 tons of gas.
However, at the current growth of gas demand, 10-15% per year, the volume of imported gas as of 2009 will still account for between 700,000-800,000 tons a year and Viet Nam will still largely depend on imports. That's why the local gas market fluctuates in time to the world gas market.