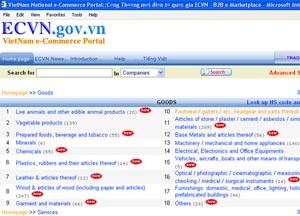 ECVN.gov.vn is operated by MOT for the purpose of constructing a commercial portal for the Vietnamese businesses community. (Photo: T.C)
The Electronic Commerce Department – Ministry of Trade (MOT), on July 31, stated that it has officially issued the Decision No. 25/2006/QĐ-BTM on regulations of using electronic signatures.
As stated in the Decision, all electronic documents signed with electronic signature are as legal as printed documents which are signed and sealed. The user must store the documents properly in order to use them as proof (if necessary).
Subjecting to the regulation are all individuals and institutions of MOT; Trade Departments, and Trade & Tourism Departments which have online transactions with MOT using the software provided by MOT; enterprises using online tools of MOT; and other individuals and institutions transacted online with MOT.
When needing to use electronic signature, all the parties mentioned above should register their signatures with the administrator of MOT-CA system is Electronic Commerce Department to receive cards, card readers and other related software.
Agencies from MOT, Trade Department, and Trade & Tourism Department will receive cards with the term of 2 years free-of-charge. Other parties must bear the cost of card (1 year term) and other cost emerged after using the MOT-CA system.
The Electronic Commerce Department will announce on eMOT or MOT: the register form, list of cardholders and effective cards, ineffective cards, and revoked cards.
Related Articles:
Ministry of Trade's website
Viet Nam e-Commerce Portal