Despite alluring promotional programs offered by electronic outlets in Ho Chi Minh City, purchasing power remains stagnant.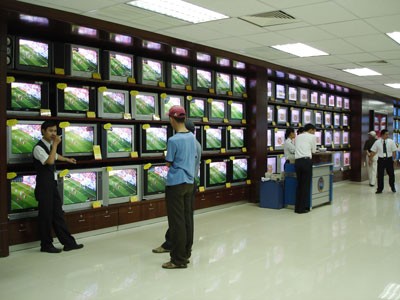 Very a few customers at Nguyen Kim Electronic Supermarket (Photo: Cat Tuong )
Cho Lon Electronics Supermarket in District 5 is offering discount on a variety of refrigerators and other electronic appliances, with even gifts thrown in, yet few items have been sold.

Some products are being offered at 50 percent discount, but most customers turn out to be only window-shoppers.

A similar situation prevails at Nguyen Kim and Thien Hoa Electronics & Furniture Shopping Center in Districts 5, 12, and Tan Phu.
Thien Hoa is offering discounts from 10-50 percent on mobile phones, deluxe televisions, washing machines and infrared stoves.

Nguyen Kim Electronic Supermarket allows customers to use products for 30 days, even increasing warranty period. Shopkeeper Le Van Tan at Thien Hoa Center hopes purchasing power will increase by year end.

Tran Chi Cuong, a staff member at Nguyen Kim Electronic Supermarket, said customers have increased in number only slightly in October as against August and September but not as much as expected.

Le Tan Loc, Deputy Head of Thien Hoa Outlet on Cach Mang Thang Tam Street said they are implementing discount programs on household and electronic products in the hope of seeing positive change in the market from now to year end.