Local steel companies and groups in Viet Nam will probably be brought to the verge of bankruptcy once huge investment projects wholly owned by foreign companies or foreign investment projects in this industry are put into operation by 2015 as planned.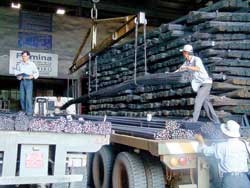 Steel products at Pomina's warehouse
Mr. Do Duy Thai, general director and founder of the Viet Steel Group, showed his growing concerns about the future of local steel corporations and groups at the news of the construction of Formosa-Sunco, a steel complex in Ha Tinh Province with a capacity of 15 million tonnes a year, was kicked off on July 6 and of the recent signing of a memorandum between Vietnam Steel Corporation, Vietnam's largest steel company, and Tata, world's sixth- largest Indian Steel Group, to build a steel complex with an estimated capacity of 4.5 million tonnes per year in the same province. The two said projects are scheduled to operate between 2010 and 2015.

Aside from the two steel complexes mentioned above, Vietnamese government has previously issued an establishment license to Tycoon- E- United, a large-scale project was initially co-invested by Taiwan's Tycoons and China's Jinnan, in a 5 million tonnes/year. However, the Chinese partner later withdrew from the project, and was replaced by Taiwan's E-United, which became the main investor in the project with 90 percent of capital contributed. Ground was broken for the project in October 2007.

Some others are waiting for licenses including South Korean steel giant Posco, which has officially submitted to the government a project on a steel complex in Van Phong Bay in the central province of Khanh Hoa. The complex is expected to produce some 4 million tonnes in the first phase of the project.

The supply of steel to be produced in country, said Thai, without a doubt will overwhelmingly exceed the demand by 2015, which is about 16 tonnes a year. He wondered how local steel companies and groups can survive and develop if they have to take part in an unequal competition with giant foreign groups in such a context.

To share the same view with Thai, Mr. Pham Chi Cuong, chairman of the Vietnamese Steel Association emphasized that it is time for economic analysts to warn about a day when local steel companies and groups disappear on the market or to be taken over by huge foreign steel corporations.

According to Cuong steel is a key industry in Viet Nam as its products are employed in both economic and military sectors. He pointed out that if all or most of the steel mills in the countries are owned by foreign companies, Vietnam then will lose its governing role in the industry.

Cuong also showed his concerns about what is behind some foreign investment projects which are registered as making an investment in the steel industry just for being granted a plot of land. Take the project of South Korean giant steel producer Posco for example. Posco insists on making an investment in building a steel mill in nowhere else but Van Phong, Cuong wondered if Posco truly wishes to build a steel complex there, or will it erect a beautiful port in place once it has been granted the land.

Economic analysts said that to achieve efficiently attract investment, the government should issue appropriate incentive policies suitable for each industry in different stages. Otherwise, domestic production will be crushed. Is it time now for the government to draft policies to restrict instead of encourage investments in the steel industry to save local companies and groups from the risk of closing down.