Equitized companies in Viet Nam have reported good performance, according to the Ministry of Finance.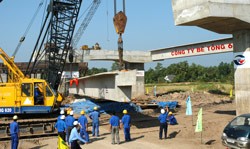 Concrete Company Chau Thoi is one of the equitized companies improving business after going public (Photo: Duc Thanh)
The ministry says 3,107 companies and their units have been equitized, and the average chartered capital has risen by 44%.
Notably, the General Forwarding and Agency Corporation (Gemadept) has increased its chartered capital by 30 times, and the Refrigeration Electronic Engineering Corporation (REE) by 13%.
On average, revenue of the equitized companies has risen by 23.6%, profit by 139%, employees' income by 11.8%. The average dividend is 17% per year.
However, not all companies have reported good performance after going public. Companies belonging to this group are ones that rely heavily on bank loans and do not have transparent financial reports.