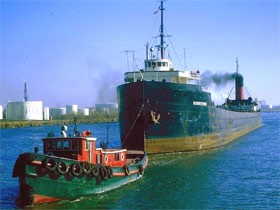 Four tug-ships made in Viet Nam will work in Europe.
A EUR16 million contract between the Song Thu Company of the Vietnamese Ministry of Defence and the Dutch Damen Group was signed on April 15 for the Vietnamese partner to build four tug-ships for Europe.
Under the signed contract, the Dutch Damen Group will be in charge of design, technology transfer and major equipment supply while the Song Thu company will provide building materials and workforce to build the tug-ships.
The deadline for building the four tug-ships, each with a capacity of 5,000 horsepowers, is fixed in August, 2006.
At the signing ceremony, the two sides also discussed the possibility of building oil-spill responding ships and versatile ships for Viet Nam's oil, gas and exporting industries.