A survey by European Chamber of Commerce in Vietnam shows that increasing trade index displays European businesses are more and more optimistic about the Vietnam's trading environment and have great expectation of doing business in the country.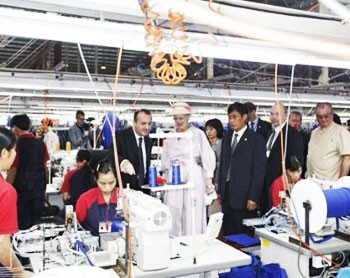 Danish Queen Margrethe II and Prince Henrik visit Mascot International Ltd. in Vietnam which employs nearly 1,000 local labourers.
The survey was carried out in European enterprises in January. The trade index increased  to 79, compared to 75 in the first survey, released in the fourth of 2010.
 
President of Association of European businesses Alain Cany said that the trade index increase reflected better confidence of European businesses in Vietnam's economic prospect.
Members of the EuroCham believe that key economic problems would be solved as well as major structural reforms would be eccelerated, enhancing Vietnam's competitive ability, said Mr. Cany.
The survey also said that most of the European enterprises got profit by 6-11 percent.
Only 8 percent of the businesses will cut down investment, compared to 12 percent in the first survey. 32 percent will increase investment, compared with 23 percent in the previous survey.
The businesses are more optimistic in their fields, bounding from 42 percent in 2010 survey to 58 percent.
They are also more confident in the Vietnam's trading environment despite prediction of inflation increase by 10 percent in the end of the year.
 Source: VNA-Translated by Ngoc Minh