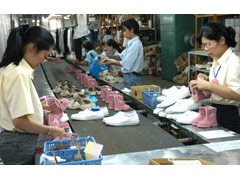 Vietnamese workers in a shoe production line
The European Foreign Trade Association (FTA) has criticized the European Commission for its decision to levy anti-dumping tariffs on leather shoes imported from China and Viet Nam.
On March 24, 2006, one day after the EC decision, the FTA, which groups 80 trade associations and companies in Europe, said that consumers in Europe are suffering losses caused by the punitive measures.
In a statement delivered while the European Union's senior leaders were taking part in a two-day meeting in Brussels to discuss economic issues, FTA President Ferry den Hoed said he did not see any reason to impose the punitive duties.
According to him, the impacts of leather shoes imported from China and Viet Nam on European shoe producers are minimal because European shoes are in a different price range.
He also said the EC decision is difficult to understand. A result is that European consumers will witness price surge and have less choice.
The FTA has campaigned against the EC's move since the EC began its investigation on dumping in mid-2005.

The EC decided on March 23, 2006 that within six months from April, the EC will impose duties from 4.8% to 19.4% on leather shoes imported from China and Viet Nam. If the parties involved cannot solve disputes during that period, the EU will officially apply anti-dumping measures in the following five years.
China has also protested against this EC decision.
Related stories
EU Anti-dumping Tariffs in Shoe Row "Irrational": Vietnamese Trade Ministry

China Condemns European Shoe Tariffs

EC Okays Punitive Duties on China, Viet Nam