Three foreign experienced lawyers in Vietnam made on Thursday a mid-year review of major current legal developments in the country, including the laws affecting foreign exchange, real estate, labor, banking and borrowings, consumer law, securities, private-public partnership, and next year's WTO changes.
Nigel Russell, partner at Allens Arthur Robison, Mark Fraser, managing lawyer at Frasers Law Company, and Geoff Sutherland, foreign legal counsel with Vision & Associates, spoke about the topics at a business meeting held by the Australian Chamber of Commerce in Vietnam – Hochiminh City Chapter, in the city.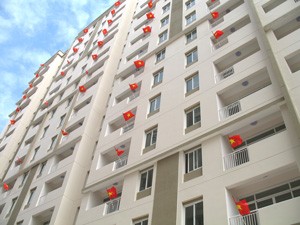 A new apartment block in Ho Chi Minh City's District 2 was inaugurated on June 18, 2011 to house residents who have had to resettle to make way for the development of the Thu Thiem New Urban Area in the district (Photo: Tuong Thuy)
Among banking issues, Fraser mentioned the enforcement of the currency policies of the State Bank of Vietnam.
The SBV's interest rates to enforce the currency policies are applicable to overnight loans for inter-bank electronic payments (14% yearly), loans to cover shortages for settlements conducted by the central bank (also 14% yearly), refinancing (14% per annum) and rediscount (13% per annum), he said.
In terms of labor, Fraser said the common minimum wage had increased from VND730,000 per month (US$37) to VND830,000 (US$42). Meanwhile, the minimum level applicable to employees working in domestic enterprises based in HCM City and Hanoi is VND1,350,000/month, and that for those working in foreign-invested companies is VND1,550,000/month.
He also briefed about labor disputes and a draft labor code that was finished in May 2011.
In relation to individual labor disputes, he said the Court shall be entitled to judge disputes being successfully reconciled, but the reconciliation has not been implemented; or disputes failed to be reconciled or failed to be reconciled within the relevant time limit.
Meanwhile, Russell provided a quick review of recent changes in law relating to foreign exchange, land and infrastructure.
He mentioned Resolution 11 of the Vietnamese Government on measures to fight inflation, stabilise the macro economy and ensure social security.
Among the recent developments in foreign exchange, Russell spoke about tightening of restrictions on domestic foreign currency loans, discouraging deposits in foreign currency, tougher action against unlicensed forex dealers (in the black market, banning banks from lending gold, and tightening of requirement that domestic transactions be conducted in Vietnam dong.
The recent developments in land laws include some rules on pre-sales, increase of land rental, the fact that People's Committees allowed to adjust the official land price, a new title certificate for all real property, which is "Certificate of Land Use Rights and Housing and other Assets Ownership".
Some other new rules are about qualified foreigners and foreign-invested enterprises that are able to buy apartments, said Russell.
In the pipeline are a ban on sale of unfinished houses, and removal of Notary Public from process of buying/selling houses, but removal or not is not clear.
Sutherland from Vision & Associates talked about current legal developments in the consumer law, borrowings from the Government and State-run enterprises, and WTO changes in January 2012.