Viet Nam registered almost US$26 billion in export revenue from January to August, up 24.3% year-on-year. Seven categories of goods earned more than US$1 billion each: crude oil, garments and textiles, footwear, fish, rice, electronics and furniture.
At this rate the 2006 target of US$38 billion is reachable but next year might be a different matter.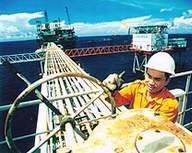 Crude oil is one of Viet Nam's export earners.
First, the oil platforms are running flat out at the moment. However, any significant drop in the price of crude will cut heavily into Viet Nam's oil export revenue.
With rubber, on the other hand, the price has already dropped sharply due to falling demand from China. Even though the price is forecast to go up sometime not too far away, it won't be by much.
Another problem is the greater difficulty in exporting farm produce and fish to Japan, and the declining sales of dairy products, vegetable oil and instant noodles due to market restrictions.
Above all, Viet Nam's footwear makers are facing anti-dumping tariffs and now the European Union is thinking of imposing quotas on Viet Nam-made shoes with leather uppers. Whether it's the tariffs or quotas, Viet Nam's shoe exports to the EU will drop off considerably.
In another labor-intensive field, many garment and textile companies in Viet Nam cannot find enough workers.
Mr. Vu Duc Giang, deputy general director of the Viet Nam Garment and Textile Group, says his sector is undertaking a shake-up to improve competitiveness. Measures include producing materials and parts to replace imports, applying new dyeing technologies, and improving management. Creating new designs is also a must, again using local materials and components.
On the good news front, four of the world's biggest steel manufacturers are building mills in Viet Nam or have received licenses to do so. Their output will be used in shipbuilding, equipping the power stations at the big hydroelectric dams now under construction, and many other areas.
In addition, Dien Quang, Vinamilk, Cadivi, Vinashin, Vinamotor and others have been working on increasing their output and product quality to boost their export revenue.