The Ministry of Trade has announced the preliminary list of the exporters of the year for public ideas, expecting to finalize the list in early 2007.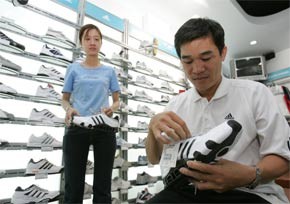 A man tries sport shoes to buy in Ho Chi Minh City. Footwear is a major export earner of Viet Nam. (Photo: Tuong Thuy)
The preliminary list has 314 exporters of furniture, clothes, rubber, tea, fresh and processed farm produce, footwear and other commodities. They have met the ministry's requirements such as export revenue ranging between US$1 million to US$20 million (for different items), and profit made over the latest two years.
The ministry has organized the 'exporters of the year' program for three years till now, named the best exporters of each year to recognize their excellence, thus promoting their sales overseas.