A Ministry of Industry and Trade representative said at a state level meeting in Hanoi on Feb.6 that manufacturing and export of key commodities in Vietnam are currently facing many problems, while essential items like cooking gas and gasoline are under pressure for hike in price.

Export production facing problems
According to the Ministry of Industry and Trade, the country's export turnover was estimated to reach US$6.5 billion in January, a decline of 11 per cent compared to the same period last year.
However, export turnover has dropped as a result of fluctuating market conditions and declining prices. Besides, purchases were made within 20 days of January because of the New Year and Tet Lunar holidays. Some items showed a sharp decline such as coffee, which dropped by nearly 40 per cent and rice, which saw a fall of   over 53 per cent in January.
The textile and garment industry which had the highest export revenue in 2011 with $15.6 billion is now facing many difficulties as well as a shortage of orders. The situation is still fluid as the textile export market is affected by the eurozone debt crisis, a slow down in the US economy and cost saving measures in Japan.
Many textile companies are also facing difficulties because of rising prices of imported raw materials and running costs, while bank interest rates remain high.
The recent hike in car registration and license-plate fees have worsened conditions in the automobile business, which was already struggling with the economic downturn.
Hanoi and Ho Chi Minh City increased fees on January 1 in an effort to reduce the number of private vehicles and ease the traffic congestion clogging the city roads. The fee hikes have increased the cost of cars sharply. Thus, automobile production decreased by 17.5 per cent and air-conditioner manufacturing by 79 per cent.
Global prices affecting domestic consumer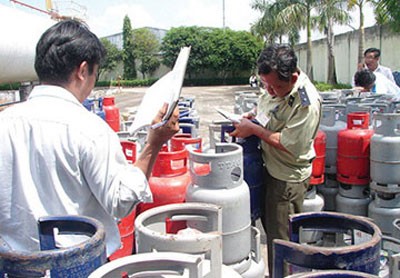 Inspectors in Binh Duong Province check a local gas facility (Photo:dtinews.vn)
Since the beginning of this year, the retail price of a domestic 12 kg cooking gas cylinder has increased by VND70,000, to now cost the consumer about VND428,000.
Vo Van Quyen, head of the Market Management Department under the Ministry of Industry and Trade said that the ministry will coordinate with the Ministry of Finance to try and curb the increased gas prices across the country.
The hike in domestic gas prices is related to the consecutive rise in global gasoline prices.
As to the quality of gasoline being sold in petrol stations, the ministry is determined to investigate any case of fraudulent practice and penalise those involved, irrespective of who the person may be.