In the last 11 months of 2012, the volume of rice for export increased by 5.5 percent but value decreased by US$43 a ton as against the same period last year, announced the Vietnam Food Association (VFA) at a meeting in Ho Chi Minh City on December 4.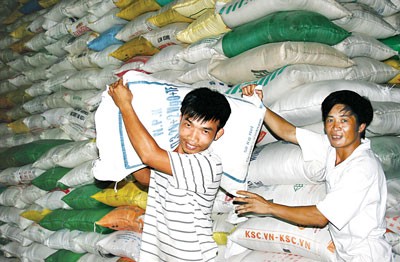 Workers stack rice for export at the Gao Viet Company (Photo: SGGP)
According to VFA, volume of rice for export in the last 11 months of 2012 exceeded 7.1 million tons, equivalent to the entire volume in 2011.
Despite increase in volume, the value fell by $43 a ton, with revenue amounting to about $3.2 billion. Though farmers produced more rice, they raked in less profit.
Vietnam is expected to export 7.65-7.7 million tons of rice in 2012, the largest amount ever.
Rice businesses in the Mekong Delta said that rice prices fell by VND500 a kilogram compared to two weeks ago. Though customers say rice quality this year is better than last year.
Currently, the price of high quality rice has reduced to VND7,300-7,500 a kilogram.
Prices fell because there are some new export contracts at year-end. Businesses are mainly implementing their old contracts to deliver rice to Indonesia and Malaysia.
Meanwhile, the export price of five percent broken rice has slid to $420-430 a ton, which is $125 lower than of Thai rice but same as that of Indian rice.
Price of 25 percent broken rice has also fallen by $20 a ton to fetch $390-400 a ton.
According to the agriculture industry in the Mekong Delta provinces, rice output in 2012 is estimated to reach 24.6 million tons, an increase of 1.1 million tons over last year, thanks to bumper crops.
In 2012, the Mekong Delta cultivated rice over an area of 4.1 hectares, which yielded 10.4 million tons in the winter-spring crop, 11 million tons in the summer-autumn crop and 3.2 million tons in the autumn-winter crop.