Though the tra fish prices have risen to their highest ever of VND25,000 a kilogram, production is marred in the Mekong Delta as input costs skyrocket and farmers lack capital to continue production.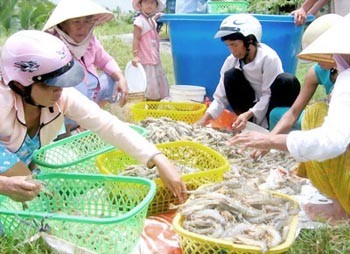 Shrimp breeders in Bac Lieu Province (Photo: SGGP)
Fish farmer Vo Van De in Thuan An Ward of Thot Not District in Can Tho Province said that the current tra fish prices were like a dream for farmers but a lot of them were short of capital to invest further into farming.
During the last two years, fish farming has faced many obstacles which led several banks to withdraw their loans or stop giving further loans, he said.
Duong Thi Dep from the ward said that in 2009 her family bred nearly 200 tons of tra fish in which they suffered a loss of VND1.5 billion (US$71,000). She subsequently had to sell all her property to pay back mounting debts. Since 2010, the tra fish prices have increased and Ms. Dep approached the banks for a loan but was denied.
Deputy Chairman of An Giang Seafood Farming and Processing Association admitted that the tra fish farming input costs, including petrol, feed and labor fee, had risen unsustainably high. To breed one ton of tra fish, farmers now needed at least VND21 million (US$1,000). Without bank loans they would not be able to resume production.
Vo Hong Ngoan, known as the shrimp king in Bac Lieu city, agreed that it was as expensive as VND400-500 million (US$24,000) to invest in a hectare of shrimp farming.
Nguyen Van Doi, chairman of Binh Thanh agricultural cooperative in Lap Vo District of Dong Thap Province, said that the input costs to produce the summer autumn rice crop had increased by 20-30 percent. The cooperative is seeking means to raise capital to assist farmers.
Companies face similar situation
Export companies too seem to find it difficult to raise capital.  
Nguyen Van Dao, director of Go Dang Seafood Company in Tien Giang Province said that high input costs have taken the tra fillet prices up to US$3.2-3.3 per kilogram, while the export price to European markets was only US$3.2. Exports will not be effective as a result, with interest rates at 20-22 percent. Despite this scenario, businesses were continuing to function to keep their customers and employees happy.
Nguyen Van Diep, chairman of the People's Committee of Vinh Long Province said that the state should have feasible policies to assist the Mekong Delta region to take advantage of its production base of seafood, fruits and rice. The government needs to give immediate priority to capital assistance for agricultural production and exports.
On Monday afternoon, Vo Ngoc Diep, director of the Vietnam Joint Stock Commercial Bank for Industry and Trade in Dong Thap Province announced that capital for agricultural production this year would be increased by 30 percent at his branch.

He affirmed that the bank will not close its door to agricultural production and exports, but farmers and businesses must have sound production projects and ensure effectiveness in their application.

Meanwhile, Le Van Tho, director of the Bank for Agriculture and Rural Development in Can Tho City claimed that the branch had given loans worthVND390 billion (US$19 million) for the winter spring rice crop. It would continue providing further loans for the coming summer autumn crop as well.

The bank has also released VND400 billion (US$19 million) for tra fish breeders. In the coming days, the bank will limit loans to individuals and give priority to those expanding and associating with businesses.