For the first time, farmers in the Mekong Delta have a chance to own shares of An Giang Plant Protection Joint Stock Company in An Giang Province on April 15.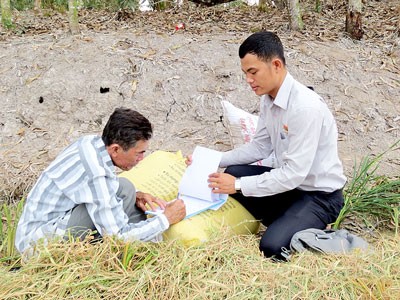 An An Giang Plant Protection Company staff sells stocks to farmers at field (Photo: SGGP)
Truong Van Bon from Vinh Binh Commune, Chau Thanh District has spent VND45 million (US$2,134) to buy stocks at the par value of VND30,000 (US$1.42) each from the company.
It is unbelievable that a genuine farmer like me could become member of such a large company, he said.
He does not know anything about stock but still purchased because of his belief in the company's large scale paddy field model, which has been implemented and benefited farmers for the last few years.
The company's model has profited us VND30-35 million per hectare in the winter spring crop amid the price fall and low consumption, said farmer Le Van Nhut from Tri Ton District.
Nhut family spent VND300 million (US$14,231) for 10,000 shares from the company.
An Giang Plant Protection Joint Stock Company issues more than 1.8 million stocks to 1,724 farmers who have joined the large scale paddy fields. Each share is being sold at VND30,000, equivalent to one second of the company's stock price in the market.
The program aims to share profits and rights with farmers who now can attend in setting rice prices, said Huynh Van Thon, chairman cum director general of the company.
Professor Vo Tong Xuan appreciated the company's program, saying that farmers will sell rice to the company where they are shareholders. Traders will not have chance to squeeze the prices. Farmers can also get assistance from the company in seed rice, production technique, fertilizer and others.
Authorized organs should mobilize other companies to sell shares to farmers to better effectiveness of large scale paddy fields and broaden this production model, said experts.