New and expanded Foreign Direct Investment (FDI) projects in Vietnam exceeded US$8.22 billion until April 20 this year, showing a 17 percent year-on-year increase.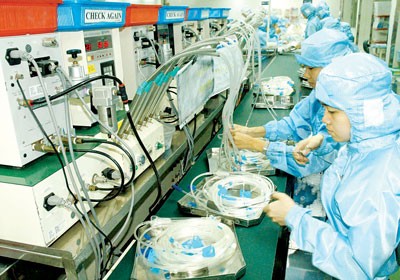 Workers at the Japanese Nikkiso Company in Tan Thuan Export Processing Zone in HCMC (Photo: SGGP)
Data released by the General Statistics Office on April 25 shows that newly registered 349 FDI projects were at nearly $4.9 billion, down 10.5 percent in the number of projects but an increase of 14.6 percent in capital from a year earlier.
There were 121 projects registered in previous years with total expanded capital of $3.35 million, or 3.9 percent of that in the same period last year.
The processing and manufacturing sectors attracted most number of projects with newly registered and expanded capital of upto $7.41 billion. Realty sector reached $307.1 million; other sectors stood at $499.1 million, accounting for 6.1 percent.
Thirty eight centrally-governed provinces in Vietnam have FDI investment projects. The northern province of Thai Nguyen attracted the most FDI projects with $2 billion of newly registered and expanded capital, accounting for 41 percent of total capital. The central province of Binh Dinh and the southern province of Binh Duong ranked second and third, respectively.
Among 33 nations investing in Vietnam in the first four months of the year, Singapore was the largest investor in Vietnam, with $2.3 billion of newly registered and expanded capital, followed by Russia with newly registered and expanded capital of $1 billion and then by Japan, Thailand and Korea.