Foreign Direct Investment (FDI) businesses experienced a surplus of US$ 3.92 billion in the first quarter this year, according to Foreign Investment Agency under the Ministry of Planning and Investment.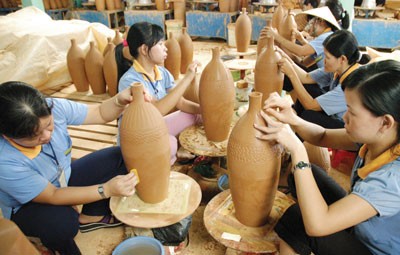 Handicraft items are produced at Natural Choice Company (Photo: SGGP)
The trade surplus was US$ 2.23 billion excluding crude oil export.
FDI capital reached only US$ 3.33 billion early this year, a decrease of 49.6 percent over the same period last year.
The country has 252 newly licensed projects with total registered capital of US$ 2.05 billion, a decrease of 6 percent in number and 38.6 percent in capital over the same period last year.
Eighty two projects increased registered capital with a total of US$ 1.29 billion, a reduction of 39.3 percent in number and 60.7 percent in capital.
Hardly any project has registered new or increased capital during this phase.
Experts forecast this year FDI capital will be equal or even higher than last year's number because large-scale projects are currently under negotiations for investment.

The projects include the US$ 20 billion electricity and gas complex project in Quang Ngai by the US Exxon Mobil Group and the US$ 28 billion Nhon Hoi Oil Refinery project in Binh Dinh by the Petroleum Group of Thailand.