The Ministry of Finance has issued instructions to reduce the petrol import tariff by 0-3 per cent from the current level of 4-5 per cent, from February 21.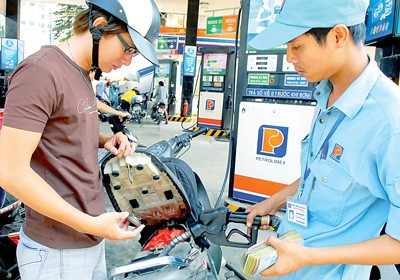 Finance Ministry cuts petrol import tariff to help lower domestic retail prices (Photo: SGGP)
Fuel gasoline, including leaded and unleaded type, will be taxed zero per cent instead of four per cent at present. Diesel tax rates will also fall to three per cent from the current five per cent.
The tax rate cut aims to ease pressure on the hike in domestic retail gas prices, affected by increase in world prices.
According to business calculations, world gasoline price has moved up by 0.89-5.18 per cent since the beginning of February. With the present price of VND20,800 a litre on Ron 92 gasoline, businesses are suffering a loss of VND1,000 per litre.
In related news, the Ministry of Industry and Trade has instructed the Department of Market Management to work with relevant authorities to step up investigation, and crackdown on violations in petrol trade and petrol quality.
Wholesale businesses must be held responsible for quality of petrol being distributed; from importing, stocking and transporting to agencies and petrol stations.
According to the ministry, market management departments in provinces and cities have handled 237 cases of violations in petrol trade, 37 of which related to sub-standard quality of petrol.