Executives from international financial joint venture Global Alliance Partners (GAP) arrived in Ho Chi Minh City on May 13 to research the Vietnamese market and look for investment opportunities.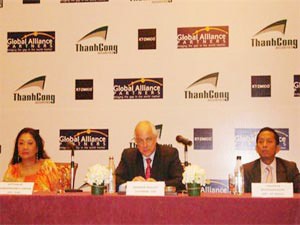 GAP chief Bernard Pouliot (C) at a press conference at the Park Hyatt Hotel in HCMC on May 13. The financial group, made up of members from several countries, is looking to invest in Vietnam. (Photo: TBKTSG)

Its president, Bernard Pouliot, introduced the company to the media in the city later that day saying GAP's members are all well-established financial services firms in their respective home markets and have been working as an informal alliance for many years.

GAP comprises Quam Financial Services Group, Hong Kong; Capital Partners Securities, Japan; MAC Capital Advisors, Dubai; Seamico Securities, Thailand; Westminster Securities Corporation, the US; and HCMC's own Thanh Cong Securities Joint Stock Company.

"GAP is interested in the Vietnamese market and is preparing investment plans," Mr.Pouliot said.

"This is the first time we have come to Vietnam for a market survey and look for opportunities in finance, infrastructure, industry, and agriculture. Initially, GAP members will focus on infrastructure development in Vietnam."

Chaipatr Srivisarvacha, executive director of Seamico, said his firm holds a nearly 19 percent stake in Thanh Cong Securities Joint Stock Company and is considering increasing it to 49 percent.

Capital Partners Securities, which has set up a fund of US$250 million in the US, is preparing to invest in Vietnam, Mr.Pouliot said.

Quam Financial Services Group, which has investments in Malaysia, Thailand, and the Philippines, is planning to raise more funds to invest in Vietnam, he said.

"We have seen [good] prospects for GAP in Vietnam. Our two members will rely on Thanh Cong for investment consultancy in Vietnam," he added.

In September last year Thanh Cong, established a few months earlier with a chartered capital of VND360 billion (about US$21.2 million), sold a stake to Seamico, one of the five largest listed securities companies in Thailand, to become a member of GAP.
The alliance was launched last October in Macau. It is planning to increase its membership to 22-25 in the next few years, Mr Pouliot revealed.
On May 14 the delegation plans to visit a number of industrial parks in the city and neighboring provinces to scout for business partners, he said.