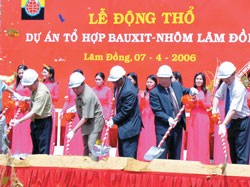 The first spades of soil upturned at the ground-breaking ceremony.
Construction work on the first bauxite mining and processing project of Viet Nam was started in the central highland province of Lam Dong by the Viet Nam Mineral Corporation (VIMICO) on April 7.
In the first phase, VIMICO will invest over VND7.8 trillion (roughly US$ 493 million) to build the project's infrastructure, including offices, housing for staff and workers, embankments, . . . . Accordingly, in this period, the project will create about 1,500 new jobs.
Afterwards, a factory for aluminum processing with an estimated annual production capacity of 600,000 tonnes will be constructed.
The complex, scheduled to be brought into operation in 2009, will exploit bauxite at the Tan Rai mine of Lam Dong province to produce 300,000 - 600,000 tonnes of aluminum annually.
According to a local official, the project, once officially in operation, will provide 16,000 jobs for laborers inside and outside the province.
The new bauxite mining and processing project will not only help develop local economy but also create jobs for local people, especially the ethnic minorities.