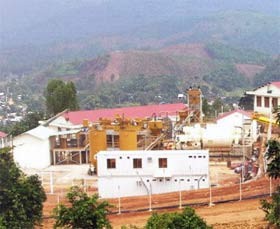 Gold mining and processing plant near Bong Mieu mine complex.
Viet Nam's first gold mining and processing plant has recently opened in the central province of Quang Nam by the Bong Mieu Gold Production Company.
Over US$7 million was invested by the company to import gold refining equipment and construct a mining plant and its infrastructure.
In the first stage, the mining plant, situated near Quang Nam province's Bong Mieu gold mine complex, will process 180,000 tons of ore a yaer into 600kg of pure gold.
In the short term, the company will start processing gold from Ho Gan mine, one of the three largest pits of the Bong Mieu complex. Surveys have placed the Bong Mieu mine's reserves at over 1 million tons of ore with a content of 3.85 grams of gold per ton.
The company had started its surveys of the complex since 1991 with the total investment capital of US$14 million.