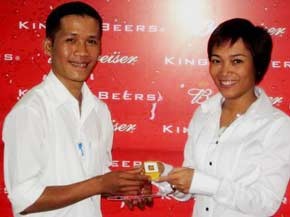 Le Vu Hai (L) receives one tael of gold in Ho Chi Minh City last week
A Ho Chi Minh City dweller has received a tael of gold (equal to 1.2 oz) from a Budweiser Beer promotion campaign that has 499 taels of gold left for lucky customers.
Le Vu Hai is the first to score a tael of gold in Budweiser Beer's latest Vietnam promotion. He won the prize last week after a scratch card inside the case of 24 Budweiser cans that his family had bought.

Between now and the end of January 2009, 499 other Budweiser buyers in the country will receive the same reward.
Budweiser Beer is running the promotion for the Lunar New Year holidays, which come late January. Each case of Bud contains a Chinese chess set and the chance to win a tael of gold.

Consumers can participate in the promotion by purchasing Budweiser in Ho Chi Minh City stores and at Metro Hanoi.