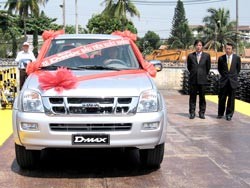 Isuzu Viet Nam's Board of managers beside a D-Max car. (Photo: U.C)
The first export shipment of Isuzu D-Max cars was marked with a big ceremony at the Isuzu Viet Nam Company on April 18.
109 D-Max cars heading for South Pacific nations Caledonia, Vanuatu and Samoa shows a new step forward in Vietnam's car assembling and production industry.
Isuzu Viet Nam is a joint venture between Isuzu Motors Ltd and Itochu Corporation of Japan, with Sai Gon Transportation Mechanical Corporation (Samco) and Go Vap Import-Export Company (Govimex).
Founded in 1995, the company has sold 10,047 cars up to March, 2006. Isuzu Viet Nam produces D-Max 4 wheel drive dual cabs, multi-purpose Hi-Lander, a sport utility, Forward truck and bus chassis.
Isuzu Viet Nam is expected to become a secondary production unit to the parent company in Thailand.