The 48-hectare tra fish farm of the Hoang Long Seafood Company in Dong Thap Province of Tam Nong District has received the GlobalGAP certificate.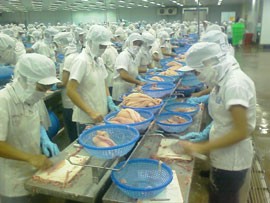 Workers process tra fish for export at a plant in Mekong Delta.
The GlobalGAP certification indicates that the farm has met with the standards required of the product and other aspects such as workers health and safety standards and that all environmental protection issues are well covered.
The company is breeding 70 hectares of tra fish at Tan Hung in Long An Province.
With the GlobaGap certification, tra fish prices will rise from 10-15 percent. In addition, the GlobalGap certification will also help the company to pass all technical procedures to enter the European market.
The company has signed an exclusive contract to supply frozen fillet-fish to supermarket chains in Europe in 2011. The company is also trying to monopolize the fish in Australia in the near future.