The maximum interest rate on short-term Vietnamese dong loans has been lowered from 12 to 11pct per year in five priority sectors.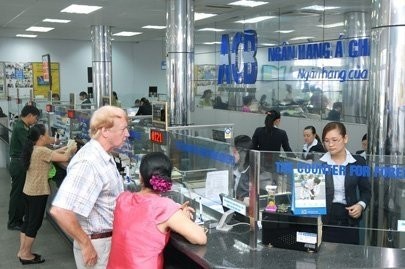 Dealing at a commercial bank in HCMC
Five sectors including agriculture, exports, support industries, small and medium-sized enterprises and hi-tech businesses will receive lower lending rate on short-term dong deposits.
This move aims to help priority sectors get easier access to bank loans to overcome current financial difficulties and boost the national economy. Lowered lending rates for these sectors will be 9-11pct per year and for other sectors 11-13pct by State-owned commercial banks and 12-15pct by joint stock commercial banks.
Remarkably, some enterprises of sectors that were healthy and transparent in financial dealings had effective production plans and already enjoyed lending rates from 9-10pct per year. Meanwhile, lending rates on US dollars remained unchanged at 5-7pct per annum for short term and 6-8.5pct per annum for long term.
In response to the Central Bank's move, the Ho Chi Minh City Housing Development Bank (HDBank) also began to offer a loan of VND1,500 billion ($72 million) with an annual interest rate of 11pct for SMEs who need additional working capital for production and export-import activities.