Viet Nam's Ministry of Trade has urged footwear makers in the country to diversify their products and export markets in the wake of the European Union's anti-dumping tariffs on shoes with leather uppers, taking effect on April 7, 2006.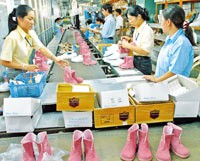 Vietnamese workers produce shoes
Footwear companies in Viet Nam are advised to shift to other big markets like the US and Japan.
The Viet Nam Footwear and Leather Association (Lefaso) are seeking to support the footwear industry to navigate the choppy water. Among their activities, Lefaso representatives will attend the World Shoes Association Show in Las Vegas, the US, this August and a show fair in Japan in October. This May, Lefaso representatives will go to East Europe to sound out export opportunities.
Footwear is one of Viet Nam's major export earners.
Link
Lefaso

Related story
European Traders Oppose EC Tariffs on Chinese, Vietnamese Shoes