There are people from foreign lands in the central highland province of Lam Dong who are seriously involved in farming as a profession.
They claim a strong attachment to this region and consider themselves as Vietnamese farmers and clearly seem very dedicated to their work. They are successful in all they are doing here after years of toiling on the soil.
The No.1 florist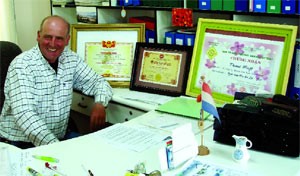 Thomas Hooft, general director of Dalat Hasfarm Company.
That is the title that people in the flower city of Dalat have given to Thomas Hooft, general director of Dalat Hasfarm Company. He is also considered to be a pioneer in helping to highlight Dalat flowers to the whole world.
Thomas Hooft came from the country of tulips, Netherland. He chose Dalat as the place to start his own floriculture business in 1993 after having traveled and backpacked around several countries.
He remembers falling in love with Dalat as soon as he came here. He loved the people and found the weather in Dalat most conducive for growing flowers. Fortunately the local people here already had some experience in floriculture and the existing infrastructure was convenient for this purpose. He realized this to be the ideal place with the right conditions for mass scale flower production.
He started growing flowers in greenhouses in an area of 2.5 hectares at first and later expanded after he saw the good results. His company is currently growing around 500 different species of flowers in greenhouses covering 70 hectares.
According to Thomas, the greenhouse method was first imported from western countries and has roofs that automatically open and shut by induction and a protective curtain system which is adjustable to all weather and temperature conditions. Watering, fertilizing and air conditioning work automatically. His Dalat Hasfarm has 8 hectares of greenhouses equipped with a night temperature warming system.
After 15 years, Dalat Hasfarm has today become the largest flower exporter in Asia with a production capacity of 80 million stems of flowers and 160 million flower seedlings. Recently, the company has also branched out into producing potted and decorative plants.
The company first exported flowers to Thailand in 1996. Currently, 80 percent of Dalat Hasfarm products are exported to Europe, Japan, Australia and Taiwan.
Breeding salmon in the forest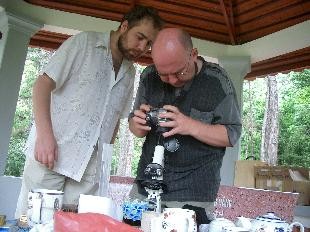 Vadim Kuznetsov (right), the owner of Thung Lung Nang fish farm.
Vadim Kuznetsov, a former Russian lawyer started his salmon business 10 years ago when he came to Vietnam to represent a fish processing company in Khanh Hoa Province. While working here he befriended Le Thanh Luu, director of the Research Institute for Aquaculture No.1, who is credited for bringing cold water fish species to Vietnam. Vadim went to Lam Dong Province to search for a suitable place for his cold-water fish farm on Mr. Luu's suggestion. In 2008, he decided to open Thung Lung Nang fish farm near a spring in the deep dense forest of Da Sar commune in Lac Duong District.
The farm was a simple structure at first but later he built concrete fish ponds with roofs and modern water filtering systems, as salmons require clean cold water to flourish.
Vadim had seen people breed salmon in his hometown in the north of Russia. However, it took at least three years for breeders to collect salmon due to the extreme cold weather there. Whereas in Dalat it only takes breeders one year as the weather is ideal for salmon breeding.
The Thung Lung Nang Fish Farm is on 8 hectares of land and covers the length of 2.3 kilometers of the spring, breeding around 30,000 salmons. The farm provides 1.5-2 tons of salmons for Dalat, Ho Chi Minh, Hanoi and Danang markets. Moreover, the farm is also a test breeding centre for six varieties of sturgeon, some of which will be bred in the near future.
Vadim wishes to stay here for a long time and revealed that he plans to turn his farm into a center for breeding cold-water fish for the Vietnamese and Asian markets.