Several foreign businesses are attentive to recent developments and want to shift their investments into Viet Nam as they see big opportunities of big Trans-Pacific Partnership (TPP) and Free Trade Agreements (FTAs) in the country.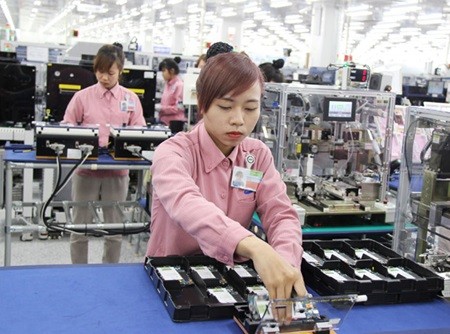 Workers assemble the cellphones for Korean Samsung in Yen Binh Industrial Zone, Thai Nguyen Province. — VNA/VNS Photo Hoang Nguyen
Do Thang Hai, deputy minister of industry and trade, said exports from foreign direct invested (FDI) firms was one of the bright points in the economy last year. The percentage of the area's exports has shown an upward trend in Viet Nam's export turnover over the past few years.
In 2010, the exports from FDI enterprises were US$34 billion, accounting for 47 per cent of the total. Their exports were $47.9 billion or 49 per cent in 2011, $64 billion or 56 per cent in 2012, $81 billion or 61 per cent in 2013, and $94 billion or 63 per cent in 2014.
Last year, the area's exports increased by 18 per cent from 2014 to $110.59 billion and accounted for 68 per cent of the country's total export turnover.
He said FDI firms have played an important role in the economy and export turnover.
They have taken advantage of cheap labour costs to promote their exports to big markets. The factor would become more favourable after the signing of the TPP and FTAs.
The deputy minister said this could be an opportunity for Viet Nam to develop a support industry which required big investment and high technology while reducing imports as well as increasing added value for domestically produced products.
In the integration process, Vietnamese businesses would have the opportunity to access international investments to expand their production. The process could also offer them access to modern technology and management skills from developed countries.
The garment and textile sectors, and leather shoes are expected to attract investors after the FTAs.
However, he said, Viet Nam should have proper policies to make foreign investment into the country effective, contributing to the country's economy.
During each development period, there should be encouraging policies which specialize in the support industry, hi-tech and infrastructure, he added.