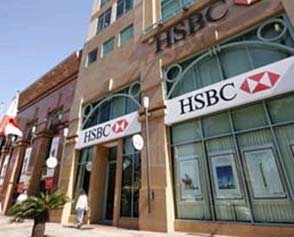 HSBC Vietnam's headquarters on Nguyen Du Street, District 1, HCM City
HSBC Vietnam will officially begin operations on January 1, 2009, providing all banking services, the bank has announced.
In September this year, London-based HSBC became the first foreign bank to obtain official approval from the State Bank of Vietnam to set up a wholly foreign-owned bank in the country.
HSBC Vietnam CEO Thomas Tobin wrote in the new bank's announcement that as of January 1, 2009, all current contracts, accounts and data of customers, partner banks, suppliers and related sides at the Ha Noi and Ho Chi Minh City branches of HSBC will be transferred to the new bank.
Vietnamese Prime Minister Nguyen Tan Dung, during his official visit to the U.K. in March this year, presented a license to HSBC in London, allowing it set up a 100% foreign-invested bank in Vietnam.

HSBC Vietnam places its headquarters in Ho Chi Minh City, where HSBC opened a full-service branch in 1995. In 2005, HSBC opened its second Vietnam branch in Ha Noi and established a representative office in Can Tho City in the south.
The firm is now the country's largest foreign bank in terms of investment capital, transaction network, varieties of products and the numbers of staff and customers.
HSBC has been named Best Bank in Vietnam 2008 by The Asset Magazine for excellence in banking and finance within Asia, the second time since the inaugural "Asset Triple A Vietnam" awards in 2006.
Vietnam began to allow foreign banks to set up their wholly foreign-invested banks supplying all banking services in the country in 2007 in line with its World Trade Organization commitments.