Foster's Group will sell its two breweries and local brands in Viet Nam to the Singapore-based Asia Pacific Breweries (APB), brewers of Heineken and Tiger, for US$105 million.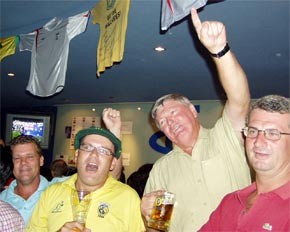 Australian Consul General Mal Skelly in Ho Chi Minh City (2nd,R) drinks Foster's Beer with his friends at a Foster's bar in the city. (Photo: Tuong Thuy)
The move comes as part of a shake-up of the group's international beer operations. Foster's Group will sell its breweries in Da Nang and Tien Giang but will retain ownership of the brand, and provide brand management and technical support to APB. In addition to producing and distributing Foster's in Viet Nam, APB will also produce Foster's for export across Asia.
With the purchase of Foster's Da Nang and Tien Giang breweries, APB will own interests in 29 breweries in ten countries in the Asia-Pacific region: Singapore, Malaysia, Thailand, Viet Nam, Cambodia, China, New Zealand, Papua New Guinea, Sri Lanka and India.
Foster's Group is also selling its brewery in India for US$120 million to SABMiller Plc., a major international brewer, Reuters reported on Friday.

Shares in Foster's, due to announce its annual results on Aug. 29, gained 1.3 percent to A$5.39 by 0245 GMT on Friday, said Rueters, adding that the stock, valued at more than US$8.2 billion, hit a four-month low of A$5.25 earlier in the week.
BGI Beer produced at Foster's Tien Giang brewery in Tien Giang Province, southern Viet Nam. (Photo: Tuong Thuy)
The Viet Nam and India deals follow Foster's sale of its China brewery to Japan's Suntory Ltd. and the sale to Scottish & Newcastle Plc. of its brand in Europe. The total value of all the transactions exceeds A$1 billion ($758 million).
Foster's said that on a combined basis, the sale of the businesses in China, India and Viet Nam will generate net proceeds of more than A$300 million and eliminate loss-making operations.
In Viet Nam, APB, whose flagship brands are Heineken and Tiger, will also acquire Foster's in-country offices. 
The deal is subject to the Australian Foreign Investment Review Board and is expected to take effect in September 2006.
Foster's Group started its operations in Viet Nam in 1997, buying the BGI brewery and brand.