Freight rate might be reduced 5-7 percent as petrol prices have fallen down from 12 to 16 percent over the beginning of this year, said the Ministry of Transport at a meeting on measures to lower the freight on November 13.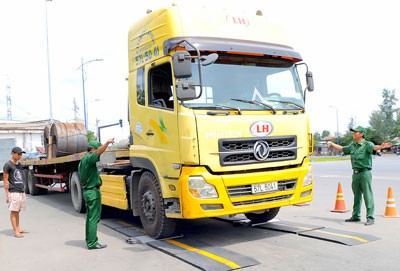 A weight station in HCMC. Most transport companies have not reduced freight rates although petrol prices have reduced the ninth consecutive time this year (Photo: SGGP)
However, not all transport companies will have to reduce their freight rates by 5-7 percent. At present, most transport companies have not adjusted their freight rates to suit new petrol prices.
The Ministry of Transport said it would establish an inter-department inspectorate to inspect large transport companies and those irrationally posting the freight will be fined.
The ministry instructed transport departments and associations to work with businesses for effective solutions to cut haulage rates.
Transport fee accounts for 11.8 percent of Vietnam's Gross Domestic Products. It is below 4.5 percent in the US, 4.8 percent in Singapore, 5.8 percent in EU and 6 percent in Japan.
Answering why transport businesses have too slowly reduced freight rates, chairman of the Vietnam Automobile Transportation Association Nguyen Van Thanh explained that petrol prices reduce very little as its prices are quick to rise.
Representatives from transport departments in Hai Phong, Nam Dinh, Thanh Hoa and Hanoi said that for a long time, transport companies have to suffer high petrol price although it was reduced for the last one month.