Vietnam Textile and Apparel Association yesterday said that January garment and textile export turnover grew 1.2 percent over the same month last year to reach US$1.9 billion.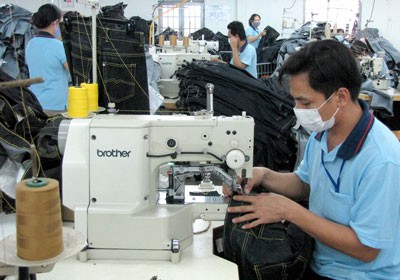 Production at Gia Dinh Textile & Garment Company in HCMC (Photo: SGGP)
Many businesses have got orders to produce until the end of the first quarter this year and even the second quarter to some, it said. The production output of garment and textile products such as fabric and clothes have been on the rise compared to the same period last year.
 
However, 60 percent of the export turnover has been undertaken by Foreign Direct Investment (FDI) companies, Vietnamese firms have occupied only 40 percent.
 
Mr. Le Quang Hung, chairman of Saigon Garment Manufacturing Trading Joint Stock Company, said that FDI companies held US$14 billion of the US$21 billion export turnover in 2014.
Only US$6 billion went to Vietnamese firms. Of these 80 percent came from processed goods, 20 percent was fully made by local companies and exported under FOB (Free on Board) term, meaning Vietnam just earned only US$1.2 billion.
 
Similarly FDI firms have also been the main exporters of leather and footwear products. This field posted an export turnover of US$1.05 billion in January, up 23.2 percent over a previous year.
 
Leather shoes output has reached 24 million pairs so far, an increase of 19.8 percent over the same period last year.
 
Most domestic companies have mainly done outwork in this field.