The import tariff of petrol, diesel and kerosene has been taxed at 0 percent.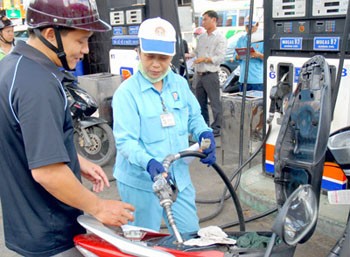 Gasoline import tariff slides to 0 percent (Photo: SGGP)
From February 24 onwards, the Ministry of Finance will apply new tariff rates on some gasoline commodities that are on the preferential import tax list.
The tariff rate of kerosene and engine oil has specifically been reduced from 2 percent to only 0 percent.
This is one of the measures that authorities have taken to prevent the retail price of petrol from increasing, as gasoline related businesses are suffering a loss of VND3, 000 per liter.
In related news, the Dong Nai Province market management department uncovered and penalized 15 gasoline shops on February 23 for closing their doors and stopping sale of gasoline.
Most of these shops are located in Bien Hoa city, Long Khanh town and in the districts of Tan Phu, Xuan Loc, Trang Bom and Long Thanh. Dong Nai Province currently has 340 gasoline shops.