The Ministries of Finance and Industry and Trade have permitted businesses to increase gasoline prices by VND410 per liter on July 7 after an increase last month.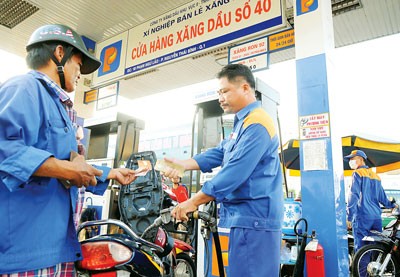 A filling station in HCMC (Photo: SGGP)
A liter of Ron 92 now costs VND25,640 and Ron 95 costs VND26,410. 
Prices of diesel, kerosene and engine oil go up by VND290 per liter, VND410 per liter and VND130 per kilogram respectively. 
The ministries also allowed businesses to extract an extra of VND300 per liter sold to the subsidization fund, totaling VND500. The contribution is remained unchanged at VND300 per kilogram of engine oil. 
According to calculations by the two ministries, current retail prices of petrol products are VND413-918 lower than basic prices per liter or kilogram. Of them gasoline suffered most loss with VND918. 
The latest increase was on June 23 when gasoline prices went up VND330 per liter to reach VND25,230 for Ron 92 and VND25,730 for Ron 95.