The German business delegation concluded its tour in Ho Chi Minh City after three days in Ha Noi. No speeches at the matchmaking gathering in the conference room. The atmosphere was down to earth, just doing business as a lot of Vietnamese potential clients were anxiously waiting to ask their questions.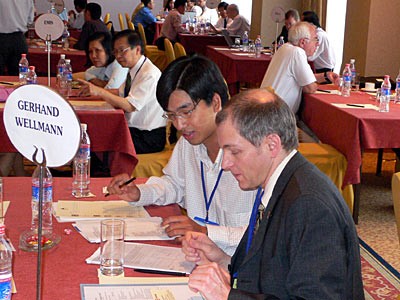 Gerhard Wellmann from Germany with his Vietnamese interpreter
Engineered Manufacturing Processes
Let us just pick one German delegate and find out about his chances for future co-operation with Vietnamese partners. Mutual understanding and good relationship is diplomatic rhetoric, but what does it mean after five days of hard talks and negotiations? What is in the order books besides another 30 name cards?
Mr. Gerhard Wellmann, CEO of the Wellmann Company in Germany, who has specialized in building sophisticated processing plants, right from the feasibility study to the turn-key projects, speaks with great respect about the long-term plans of the Vietnamese government to bring prosperity to the population. During his visit to Vietnam he mainly met potential partners who looked at the Viet Nam market of 85 million consumers in the long run.
Milk, Drugs and Baby Food
Mr. Wellmann met Vietnamese businessmen who wanted to be briefed exactly on his equipment for engineered manufacturing processes, especially for milk products. The German manager who is also an engineer said that he sees an increasing demand for milk products in the country. He is convinced that the demand can be satisfied by Vietnamese companies of its own trademark. His plants are engineered mainly for quality output which fulfils international food control standards.
Wellmann Company is also specialized in plants to produce drugs and cosmetics.
Mr. Wellmann is optimistic that one particular food company in Vietnam might start with its own baby food production. There is a market which has not yet been tapped. His company's processing plant could be the start for a big business supplying the market of an ever increasing urban population of young couples and their children in Vietnam.
Equipment of highest standard ready for shipment from Germany to Viet Nam
Clean Water is a Precondition
The critical point with all the food and drug production is the supply of clean water. This is why he has also specialized on water treatment before the production line can start. Water with unknown residues which might be toxic can spoil the result of a final health test which is normally required in the food industry.
Mr. Gerhard Wellmann said that business people in Vietnam know and appreciate German quality engineering but it is hard for him to convince the respective buyer that he cannot get the equipment for Chinese prices.
The German manufacturer is certain that some of the name cards given to him will turn out to be business partners.