A German group of 20 businesses in the fields of transportation, machine, oil, construction, drainage system, import/export and electronic equipment is visiting Viet Nam to search for business opportunities.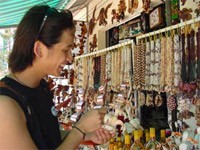 Vietnamese handicraft always appeals to foreigner
As scheduled, they will come to Ha Noi and Ho Chi Minh City to meet with Viet Nam's businesses. On the occasion, the 6th Germany – Viet Nam forum will be held on March 27 to discuss cooperation and business development.
Viet Nam exports to Germany an annual US$1.5 billion worth of goods including clothes, footwear, agricultural products, calculators, handicraft and fine arts.
Viet Nam imports machines, materials, synthetic textiles, metallic products, chemicals and electrical devices from Germany.