Vietnam will start listing Government-guaranteed bonds at the Singapore Stock Exchange from October 11 to help the troubled Vietnam Shipbuilding Industry Group (Vinashin) repay its creditors.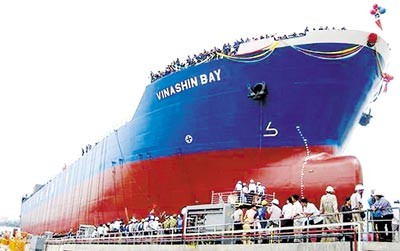 The launch of a vessel built by Vinashin. (Photo SGGP)
The bonds, issued as global fund certificates, have been registered at the New York Stock Exchange, it was reported at a press conference co-hosted by Vinashin and the Finance Ministry's Debt and Asset Trading Corporation (DATC) in Hanoi on October 10.
The move will help the State-run Vinashin cover a foreign loan worth US$600 million, which the chairman of its board of directors Nguyen Ngoc Su said is crucial for the group to repay other foreign debts, allowing it to speed up the badly-needed restructuring of the company.
The bonds will be issued for 12-year terms with an annual interest rate of 1 percent.
The reform of Vinashin was ordered in 2010 after Government inspectors uncovered the group's financial malpractices. At the end of 2009, the company was more than VND86.7 trillion ($4.1 billion) in debt.