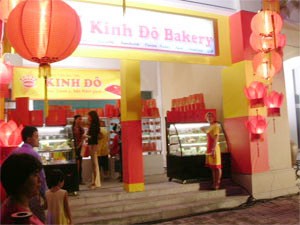 Glowing in the dark: The Kinh Do Bakery shop in Hai Ba Trung Street. (Photo: Hoang Uy)
Brand plays a crucial part of businesses as it helps persuade customers to buy products. And when Viet Nam joins in the World Trade Organization, brand building becomes an urgent task for local companies. Asides from their efforts, domestic firms need supports of scientists and relevant units.
Unstable brand names
According to a report of the AC Neilsen Viet Nam, a giant in market research, half of the 500 well-known brand names in the country are Vietnamese.
Local businesses have made significant efforts to promote their brands. Those attempts were honored at dozens of public events like Viet Nam's Golden Star, High-Profile Brand Name, Top-Notch Brand Name, Prestigious Exporter and High-Quality Vietnamese Goods.
In addition, local authorities also help enterprises protect brand names, build logos and advice on brand building strategies.
However, after 20 years of economic reform, it is so sad that there is no Vietnamese company listed in the 500 most renowned brand names worldwide.
Experiences from top names
Kinh Do Corp is a top name in confectionary. Their brand-building strategies started from the breakthrough in products, demonstrated by their quick awareness of the market's demand and the development of new products.
Kinh Do's nice packing also proves effective in tempting customer. Besides, advertising and sponsoring programs do a great job of publicizing the Kinh Do trademarks.
On Viet Nam's bourse, the actual value of Kinh Do Corp is up to US$187.5 million, 10 times higher than its chartered capital.
Le Phung Hao, deputy CEO of Kinh Do Corp, said that though the corporation exported and registered its trademarks into nearly 30 countries, it still has to trade under its foreign partners' names at the outsets.
By now, it is selling products of Kinh Do trademarks at some Southeast Asian countries, the US and Japan. It also teamed up with Cadbury, a giant in chocolate, to promote its brand names worldwide.
Sai Gon Paper Corporation, a giant in industrial and consumer paper, opted for a different way to start. Established in 1998, Sai Gon Paper decided to barely foray into Ho Chi Minh City's outskirts and nearby provinces for over the first 5 years.
When the business in the outskirts took off, Sai Gon Paper Corporation moved into downtown. Then heads of the corporation focused on research and identification of the market demands, advertising and awarding programs.
They also equipped their factories with modern production lines to diversify their products. Sai Gon Paper has recently picked up 3 prizes of a national high-profile trademark awarding program.
Difficulties waiting
Human resource plays a crucial part in promoting trademarks. Thus, many local firms tend to employ foreigners to work on trademark promoting project.
In addition, the expenses for advertisement of local enterprises are limited at 10 percent of their annual revenue while these of foreign companies are many times higher.
When Viet Nam joins in the World Trade Organization, building and developing trademarks becomes an urgent task for local companies. Asides from their efforts, domestic firms need supports of scientists and relevant units.
The government ought to have the policies, managements and consultancy on intellectual properties for local firms, and the project of national trademark building and development by 2010 should be speeded up.