Vietnam's coffee output in the 2014-2015 crop is forecast to fall considerably against the previous season due to the prolonged unfavourable weather conditions so far this year, according to the Vietnam Coffee and Cacao Association (Vicofa).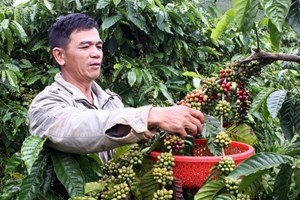 Harvesting coffee in Central Highland province of Lam Dong (Photo: VNA)
Recent cold spells in the northern mountainous province of Son La have damaged over 1,300 ha of local Arabica coffee, which accounts for 10 percent of the total 11,000 ha of the provincial coffee farming land.
Coffee in the Central Highland provinces of Dak Lak, Lam Dong, Gia Lai and Kotum has also deteriorated as the dry season has reached its peak, resulting in water shortages.
The region, which boasts the country's largest coffee growing area, is now able to ensure water for only 60 percent of coffee cultivation land, while the remaining is suffering from drought.
Adverse weather was also behind the drop in coffee production last year, during which Vietnam earned around 2.75 billion USD from exporting 1.32 million tonnes of coffee, down 25.1 percent and 23.6 percent in value and volume respectively against 2012.