The Vietnam Gold Traders Association (VGTA) on November 19 sent a document proposing the Ministry of Finance to keep export tax rate on gold jewelry unchanged at 0 percent as present.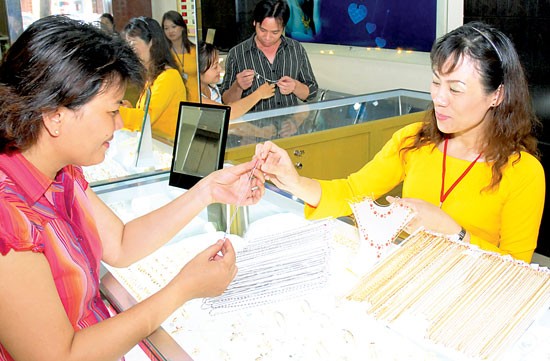 Customers buy gold jewelry at a shop in HCMC (Photo: SGGP)

In a recent draft circular, the ministry increases the rate from 0 percent to 2 percent for jewelry with 95 percent purity and higher.

VGTA said that the zero percent tax rate should be maintained to help businesses overcome difficulties and stable trading and production.
If necessary, the ministry can impose zero percent tax rate on gold jewelry with less than 99 percent purity and 0.5 percent on products with more than 99 percent purity, proposed VGTA.

According to the document, jewelry businesses have implemented the Government's policy of narrowing production and trading of gold bullion but encouraging that of gold jewelry.

They have much invested in factories, advanced technologies and production lines as well as recruited thousands of workers to broaden gold jewelry production. However, economic difficulties have caused a drastic drop in the aggregate demand and slow consumption of gold jewelry.

Chairman of VGTA Nguyen Thanh Long said that jewelry companies have sought ways to boost exports but faced difficulties because they have not been allowed to get bank credits and import raw gold to make jewelry. They have been purchasing the material in local market.

Meantime, Jewelry businesses in China, Thailand, Indonesia and India have enjoyed zero percent tax rate and been permitted to import raw gold.

Mr. Long said that jewelry gold exports should be encouraged to create jobs for tens of thousands of workers in trade villages. Once Vietnam signs the Trans-Pacific Partnership agreement, the gold jewelry industry will face more intensive competitiveness.