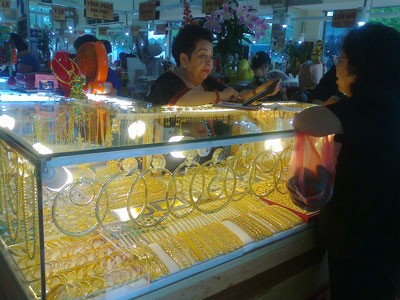 Bullion is down by VND500,000 in Vietnam on May 21 (Photo: C. Tuong)

After topping VND37 million per tael of 37.5 grams the day before, gold prices fell by VND500,000 on May 21.

The buying and selling rates on the 21st at the Saigon Jewelry Co (SJC), Vietnam's biggest producer, were VND36.48 million - VND36.68 million.
Globally, the precious metal gained slightly to reach US$1,295.3 an ounce [31 gm] but the spot delivery of gold in Asian markets fell to $1,294.4.
Vietnamese prices have always been higher, and with the rise in global prices the gap widened to VND3.6 million a tael at the Vietcombank exchange rate.