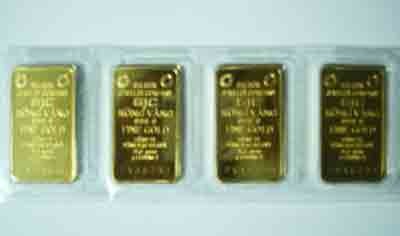 (Photo: Uyen Phuong)

The price of gold in Vietnam rebounded, sometimes surpassing VND37.9 million a tael (1.2 ounces) on June 2 as global price resumed rising momentum.
Sacombank Jewelry Company bought the metal at VND37.79 million and sold at VND37.87 million as of 10:30 am local time.
Meanwhile, the Hanoi-based Phu Quy Jewelry bought SJC-brand gold at VND37.77 million and sold at VND37.87 million at the same time.
Domestically, gold fetched around VND400,000 a tael lower than global price.
The metal opened day at above VND37.9 million a tael. However, a fall in the US dollar exchange rate and low buying demand dragged the price down from a one-month high.
The dollar exchange rate against the Vietnamese dong at commercial banks went down this morning. State-owned Vietcombank lowered the rate by VND50 per dollar to buy at VND20,520 and sell at VND20,600.
Meanwhile, the interbank US dollar exchange rate still stayed at VND20,638 this morning.
Internationally, gold recovered as the US negative economic news urged investors to seek the metal as an alternative asset.
Gold for immediate delivery rose $9.7 an ounce over the previous trading session to settle at $1,544 an ounce on the Comex in New York. Earlier, the metal climbed to $1,552 an ounce, the highest level since May 3.
Gold futures for August delivery also gained $8.5 an ounce to close at $1.545.3 an ounce.
In Asia, the precious metal surged to nearly $1,553 an ounce as of 11 am Vietnamese time.
The US manufacturing expanded in May at the slowest pace in more than a year. The Institute for Supply Management's factory index fell more than projected to 53.5, the lowest since September 2009, from 60.4 in April.
Meanwhile, Moody's Investors Service downgraded Greece's credit rating for three levels to Caa1 from B1 amid European officials rushed to put together the second bailout plan in two years to prevent the country from default.
The euro exchange rate against the US dollar slightly slid over the previous day, trading at below $1.44 a euro in Tokyo this morning.
Crude oil sharply sank due to pessimistic information about the US economy. Crude oil futures for July settlement fell $2.41 a barrel, or 2.4 percent, to close at $100.29 a barrel on the New York Mercantile.
This morning, crude oil dropped to below $100 a barrel.