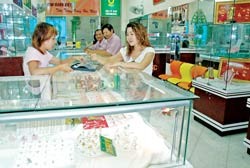 Few Vietnamese purchase gold products during these days.(Photo:T.K)
After a rapid appreciation on three consecutive days, the Saigon Jewelry Co. (SJC) gold price increased to VND11.27 million a tael (1.3 ounces) on April 4 and then closed at VND11.25 million (roughly US$706) on the same day, up VND140,000 from April 2.
Globally, the gold price was also up to US$594.3 an ounce, a 3% increase over last month.
The continual increase of the gold price during these days has caused a decline in the sale volume of gold bars and jewelries in the domestic market.
Despite many fluctuations, the domestic gold price hike does not adversely affect national economy for currently there is no sign of price increase in other items.